Introduction to Fucking Solidarity: Queering Concepts on/from a Post-Soviet Perspective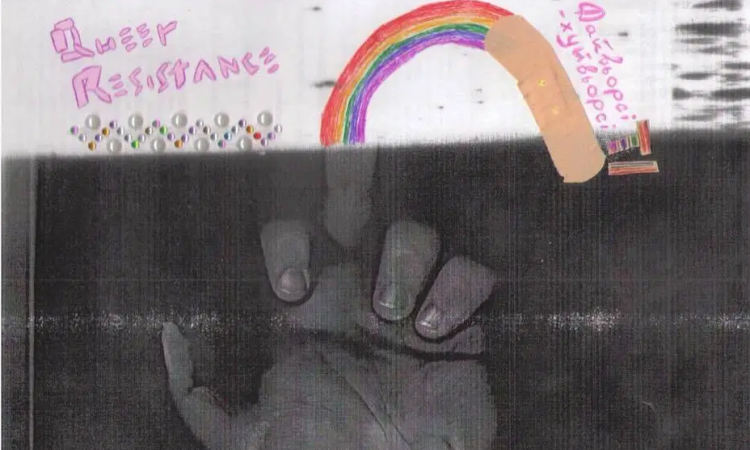 Abstract

This article introduces some of the questions, activist and theoretical concepts featured in the special issue "Fucking solidarity: Queering Concepts on/from a post-Soviet Perspective". It reflects on the usage and applicability of the term queer and queer concepts within post-Soviet and postsocialist spaces, by playfully using the "fucking" as critical term, to emphasize queer's original potential to offend and disrupt within English language. It reflects on the possibilities of queer and feminist solidarities across the East/West divide that do not fall into the trap of (Western) hegemony or anti-Western sentiments. Framing queer solidarity as "working together," it looks for the possibilities of egalitarian mutual support across national and cultural borders. Finally, it gives an overview of the texts collected in the special issue. The text is also available in

Ukrainian

and

Russian

.
1. On "fucking", "queerness", and other (dis)comforting words and worlds
The idea for this special issue arose at the conference "Fucking Solidarity: Queering Concepts on/from a post-Soviet Perspective", held on 20–23 September 2017 at the Department for English and American Studies at the University of Vienna, and part of this issue includes proceedings from the conference.1 "Fucking Solidarity" sought to shed light on some of the possibilities for queer solidarity across or beyond the post-Soviet/post-socialist spaces and the so-called "West" that could go further than paternalistic development aid or rescue missions. Conscious of the kind of power relations that all too commonly arise in projects of West–East solidarity, we wanted to approach solidarity by carefully but radically deconstructing, or "fucking", Western hegemony and forms of (white) nationalism – be it post-Soviet, post-socialist, or any other such forms. Some of the materials that you will find in this issue were presented at the conference, while others were added later after an open call for papers was announced.
First of all, why "fucking"? We understand that "fucking" is a loaded word (both as a verb and as a noun). For many, "fucking with something" holds connotations of verbal abuse, physical violence or denigration, the use of sex as a tool by oppressive regimes that want to install hierarchies and norms (we can confidently say that that there is nothing in these pages to support any of these connotations). And there is another (unspoken) dimension to combining "fucking" and "queer" – namely, that "queer" is always and forever "sexual". Yet, again, we know that this is not true.
Next, why "fuck" and "queer"? By using the word "fucking" in close proximity to and in combination with "queer" we are collectively recalling the historic potential that "queer" and "queer critique" have to disrupt. The term "queer" emerged within US and British activist discourses in the 1990s as a gesture of radical intervention, as an expression of resistance to oppression, and as a statement for radical social change. "Queer" was initially a neutral word that meant "odd" or "strange" in English, but it later came to be used to refer to effeminate homosexual men, and it became widespread as a derogatory term used to denigrate and violate people with non-normative sexualities or gender presentations.
The victims of this violence later reclaimed or appropriated the word. Thus, queer became "a term that challenged the normalizing mechanisms of state power to name its sexual subjects: male or female, married or single, heterosexual or homosexual, natural or perverse" (Eng, Halberstam and Muñoz 2005, 1). Groups such as Queer Nation – the radical AIDS activist group known for first appropriating the term as a provocative self-reference – "highlight homophobia in order to fight it" (Brontsema 2004, 4). In the 1980s radical feminists of color embraced "queer" to highlight the intersectionality of the struggle and imagine different futures:
We are the queer groups, the people that don't belong anywhere, not in the dominant world nor completely within our own respective cultures. Combined we cover so many oppressions. But the overwhelming oppression is the collective fact that we do not fit, and because we do not fit we are a threat. Not all of us have the same oppressions, but we empathize and identify with each other's oppressions (Anzaldúa 1983, 209).
When activist and other theorists imported "queer" into the academy as a theoretical concept in the 1990s, they aimed for a similar effect – to challenge norms. The first scholar to introduce the term "queer" in an academic setting was the activist, theorist and scholar Gloria Anzaldúa. Her contribution to queer theory from a Chicana perspective, however, is often ignored by official genealogies of queer studies (Amin 2020, 25; Keating 2009). The scholar who is most often named for having coined the term "queer theory" is Teresa de Lauretis. De Lauretis used the term "queer theory" as the title of an academic conference that took place in February of 1990 at the University of California, Santa Cruz.
She had heard the word 'queer' being tossed about in a gay-affirmative sense by activists, street kids, and members of the art world in New York during the late 1980s. She had the courage, and the conviction, to pair that scurrilous term with the academic holy word, 'theory.' Her usage was scandalously offensive. [I]t was deliberately disruptive. [S]he had intended the title as a provocation. She wanted specifically to unsettle the complacency of 'lesbian and gay studies' (Halperin 2003, 340).
As activists and scholars, the editors of this special issue want to mimic de Lauretis's tactic and use this swear word as a form of "provocation" and to be "deliberately disruptive." We acknowledge that "queer" has lost much of its provocative power by its being incorporated into white hegemonic US-American and international academia. Moreover, the export of queer theory to non-English-speaking contexts more often than not erased all the connotations attached to the initial verbal insult. We recognize that this kind of deradicalization is not always a bad thing. For example, use of the term "queer" to avoid the in many cases more provocative local terms employed to denote non-normative sexualities and genders often allows scholarly, cultural, and activist work to thrive where it would otherwise from the outset have been censored.
However, from an anti-hegemonic critical perspective, it also needs to be considered that academic language and knowledge production are complicit in the structural marginalization of other forms of knowledge. In Eastern Europe and in Central Asia the term "queer" has traveled in multiple different directions simultaneously. It is used both by movements focusing on liberal identity politics as an "umbrella" identity for diverse groups of people and by radical movements that are politically closer to Queer Nation, with its anarchist-intersectional roots, than to single-issue LG(BT) politics. Here, we will showcase just two examples of such borrowing.
In Ukraine, "квір" ("kvir") was introduced by both LGBT NGOs and grassroots activists. In 2008, Svobodna, an anarcho-feminist group, embraced the term as a "contemporary antonym to heteronormativity" (Квир как современный антоним... 2008). Anarchist activists in Kyiv organized actions and campaigns that drew attention to how different oppressions are interlocked. For example, a graffiti campaign organized in 2008 on St Valentine's Day sought to protest both "aggressive heterosexuality" and the "consumption it justifies Трафареты к 14 февраля… 2008). Over time, the word became more popular, and it is now even used in the title of this journal. The term "queer" was introduced to the Russian-language mainstream media "mainly through the (male cisgender) gay lifestyle magazine Квир (Kvir) in 2003 and its usage largely remained within this growing consumer-oriented apolitical context" (Neufeld and Wiedlack 2016, 189). It has been used to some degree among activists in metropolitan areas. Small groups of queer-anarcha feminists in St Petersburg and Moscow for example have been using "queer" for their street actions since around 2013. Yet, the term never gained a broader usage within Russia as a whole.
[In] Russia, 'queer' is rarely used as self-designation by non-heterosexual/non-cisgender people. In particular many of Russian LGBT activists report that the term 'queer' was introduced as an apolitical and elitist concept, undermining not only LGBT identities, but LGBT activism as such. Thus, 'queer' as a concept is very ambiguous in the Russian-speaking context and 'queer' as a term often remains a foreign word, not filled with any meaning and emotion, unlike in the English-speaking context (Neufeld and Wiedlack 2016, 189).
Moreover, a growing corpus of academic work on this queer issues, using the term has been produced within Ukrainian and Russian-language academia (Плахотник 2013 and 2014; Гарстенауэр 2018; Номеровская 2014; Аладьева 2016; Митрофанова 2014).
While the discussions around "kvir" are still going on (for the most recent examples, see "Kvir ili ne kvir?," an online discussion by Prastora KX2), our usage of "fucking" resists the deradicalization of queer critique and aims to restore the radical potential of "queer" in general and especially in non-English-language contexts. We want to acknowledge the shifting meanings ascribed to this language and those who use it. We live in a time of over-sexualization promoted by mass culture, yet it is also a time that is marked by deep sexual shame and a lack of sex education. For people labeled non-normative, this often means that their lives and kinships are reduced to sex ("all they do is fuck!") or they are denied sexual subjectivity altogether ("they don't / can't fuck!"). The plurality of ways of existence in this world and the creativity behind them were – and still are – denied in the effort to categorize and control people and the environment they live in. "Fuck" was condemned as a slur by the Christian church at the time when the "written," "cultured" tradition was starting to eclipse the traditions of oral culture. Even now, swearing is regarded as a marker of the "vulgar," "uncivilized" working class. In 2014, the Russian President signed a law banning all swearing on television, in films, on stage in the theater, and in the media. A year earlier, Russia introduced the so-called "anti-homosexual propaganda" law. Both laws are meant to silence minority voices in favor of conservative heteronormative "values." Uzbekistan, Turkmenistan, Poland, Hungary, Tajikistan, the Russian Federation, Belarus, Ukraine, Kazakhstan, Kyrgyzstan: in more and more countries, attacks against people's lives and freedoms are marked by the discourses of "public morals" or "traditional values." The illusion of the "West" as a "safe heaven" is crumbling as fast as the illusion of the "East" as being on an "inevitable path to progress." Isn't now the time to look more closely at what "moral" and "immoral" are?
When we were putting this special issue together, we did not have a single or unifying concept of solidarity or an answer to the question as to what it means to be united in solidarity. Equally, the contributing authors have different understandings of the term and concept. Yet, what ties all of the texts and artwork in this issue together is the critical lens that is applied in these pages to existing concepts and that considers the many different aspects of queer solidarities. Hence, through queer solidarity, "fucking" signifies playful but critical scrutiny and a necessary mode of reflection. By talking about "fucking" instead of "queering" we also hint at the frustration, disappointment, and sense of failure that accompanies every attempt at queer solidarity. No less importantly, "fucking" also addresses sexual desires, encounters, acts, and relations that are often as much a part of queer solidarity as other political aspects are. The recognition of desires, acts, and relationships arguably distinguishes queer solidarity from any other form of solidarity that aims to support people who identify as LGBTIQ+ or live non-normative lives.
By acknowledging the multiple meanings of the words "fuck" and "queer" we reveal our own positionings: an inquiry into language and embodiment, a political stand against oppression. And perhaps we are also exposing our own roots: our working-class background / our interest in feminist punk / our distrust in politics of respectability / our struggle with the old and new conservative movements that aim to shame and control bodies, sex and sexuality / our loneliness and togetherness in all of this.
For us and for our authors, the fucking of or fucking with solidarity means to thoroughly, critically, and passionately scrutinize the idea, the theories, the practices, and the art of solidarity. This includes discussing the pleasures and erotics of queer solidarity, what drives them, and the desires behind them. Solidarity is a frequently used word in political debates (including queer-feminist debates) across geopolitical and social contexts. Many feminist scholars have been critically reflecting on and challenging queer and feminist solidarities, not least from a critical decolonial perspective (hooks 1986; Mohanty 2003; Abu-Lughod 2013; Sharoni et al. 2015; Bouteldja 2010; Plakhotnik 2019; Mayerchyk and Plakhotnik 2019; Solovey 2019).
However, there has been little scholarship to date that has focused on the specific challenges that arise when thinking about solidarity and practicing it in the post-Soviet and post-socialist contexts from a feminist (Majewska 2015; Mishchenko 2015) and queer perspective. The few works concerned with the post-Soviet and post-socialist contexts concentrated on issues within the national borders rather than analyzing transnational solidarity between the West and the East (the few exceptions include Binnie and Klesse 2012 and Feminist Critique 2020, no. 3).
2. Research questions and approach
Our approach to transnational solidarity was to bring some of the knowledge and practices that have grown out of the local contexts, histories, experiences, and subjectivities of post-communist Eastern European and Eurasian spaces into a conversation with each other and with Western allies. Our interest in Western knowledge production about these spaces was only secondary and in most cases assumed the form of critique. This was not an anti-Western stance or an opposition to Western concepts, positions that are popular among some post-communist nationalists today. Rather, we recognized that knowledge, just like solidarity, cannot simply be "assumed" and "tied" to a particular dominant location, as it is in reality/in actuality produced through concrete critical and political practices, locally and between different locations, by bodies and voices that have been shaped by imperialist and colonial histories.
Creating a dialog between people and groups across differences also entails acknowledging the different voices and their different accents, metaphorically and literally. Our approach to editing this issue was in line with our thinking on solidarity: we accepted most of the papers submitted to us after announcing the initial call. In doing so, we were trying to keep our editorial "judgment" to a minimum and not feed into the already existing hierarchy between "editors" and "authors." While to deny such a hierarchy would be futile, we did our best to support the authors and make sure their contributions would make it into the final issue. We also tried to keep our interference in the authors' works to a minimum and for the most part only intervened when the editors-in-chief asked us to do so.
This issue is being published in a time of global change that has been caused by the COVID-19 virus, which has exposed the biopolitics and necropolitics of both West–East relations and individual nation-states. It is coming out in a time of racism, colonialism, misogyny, hatred of sexual and gender dissidence, the capitalist exploitation of humans and nature, and ableist and normative oppression. But also in a time when local and global protests and new forms of solidarity are appearing every day. We are not pretending that this issue will give you the answers to what solidarity was, is, or should be. We see it more as a kind of collection of FAQs – to put it simply, an invitation to further discussion of the topic.
This issue is coming out much later than planned, as while producing it both the guest editors and the authors had to struggle with other jobs (or lack thereof), commitments, and the slow and painful everyday resistance to the various normative systems we are caught up in. As an act of solidarity, this issue is thus at times coarse or stylistically incongruous – we embrace it this way, and hope you will, too.
2.1. What does solidarity "mean": or solidarity as "working together"
Queer feminist scholars (Pedwell 2012; Caple James 2010) have long pointed out that queer solidarity needs to be thought of not just as an action or sequence of actions, but also as structured through feelings and affects. As the editors of this special issue, we agree with this sentiment and further suggest that the collective recognition and analysis of the feelings and affects of solidarity is one of multiple "actions" necessary to sustain queer solidarity. Moreover, taking a cue from the queer studies scholars Jon Binnie and Christian Klesse, we suggest thinking of the affective labor that constitutes solidarity "as intergroup coalition work" (2012, 445). Although Binnie and Klesse framed their concept with regards to specific transnational feminist and LGBTIQ+ spaces and movements in Poland, their approach can equally be used for trans-regional or international solidarities. Conceptualizing solidarity as "working together" can help bring about a recognition of its emotional as well as its material aspects. "Working together" in this way is a "critical practice" (Binnie and Klesse 2012, 453) that is not always or not exclusively pleasurable. It "is dependent on a sound understanding of the positioning of social actors in the complex web of social divisions (such as race, class, gender, sexuality, age, disability) and the acknowledgement of shifting and multiple identifications and affiliations" (453).
The idea of queer solidarity as "working together" is not about optimizing processes or increasing efficiency. Rather, queer solidarity can be thought of as a shared labor process that requires resources and skills, their redistribution, and a sharing of privileges. "Working together" requires a collective and personal analysis of the individual emotional, physical, intellectual, economic, and other privileges, abilities, and hegemonies that exist between all parties involved (see, for example, Spade 2010 on the redistribution of wealth in activist collectives). Thinking of solidarity as "working together" in addition to or instead of it being a moral, affect-driven, or identity-based unity, is an opportunity to consider differences not as obstacles but as necessary aspects of such shared labor.
While morally motivated solidarities imply that there is a "giver" and "receiver," solidarity as "working together" suggests that there are two or more parties that are collaborating towards a collective goal. This understanding highlights the need to negotiate or define a shared interest or goal and to set clear rules of engagement, taking into consideration aspects of care and support. "Working together" like this should strive to be highly collaborative, non-hierarchical, respectful, and dialogical. Part of the "work" of "working together" should, furthermore, include "working through" the failures and fuck-ups of other attempts. Failure is a necessary part of solidarity that is often absent in international solidarity efforts. Failing to forge meaningful and lasting solidarity can evoke feelings of shame and guilt that can make it hard to continue or complete solidarity projects or start new ones. If we change our perspective on failure, however, and see it as an inevitable part of solidarity, it might be less likely that solidarity will end in a state of shame or guilt.
Combining an understanding of solidarity as a structure of feelings with a concept of solidarity as "working together" could offer an opportunity to understand the action of working through affects, feelings, and desires as being part of the shared labor that is solidarity. This kind of work needs to happen collectively and hegemonies need to be taken into consideration. This work, however, cannot ignore power relations. It cannot allow privileged collaborators to celebrate their white fragility. On the contrary, this work needs to answer questions such as whose feelings are getting how much space, and on whose terms and under what conditions is the processing taking place. Does everyone have the agency to participate or to refuse to do so? How much is at stake for whom? What happens if the project of working through feelings fails? What consequences will this have for the larger project of solidarity? Positionality and self-reflexivity in relation to these questions might enable us to reveal these complex interrelations and help us to understand why we want to form connections and be in solidarity with each other in the first place. Thinking of solidarity as "working together" allows us to acknowledge the laborious, unpleasant, and "hard" aspects of solidarity, without understanding the occurrence of feelings of frustration and disappointment as signs of failed solidarity.
Redefining queer solidarity with regards to materialism helps to emphasize it as a productive "doing" or activity, rather than a moral imperative, and again distinguishes it from charity or benevolence. Moreover, thinking of queer solidarity as "working together" allows us to draw on queer theory that deals with affect and emotions (Pedwell 2012; Caple James 2010) in a conversation with queer materialism (Griffiths 2016; Hennessy 2006; Bakker and Gill 2004) and queer post-Soviet/post-socialist critique (Kulpa 2014; Binnie and Klesse 2012; Kulpa and Mizielińska 2012; Stella 2015 and 2013). Feminism and queer materialism have a long history of reconfiguring the concept of work to include all sorts of sexual, domestic, and reproductive labor from a queer and decolonial perspective. Kate Doyle Griffiths (2016), Rosemary Hennessy (2006), and Isabella Bakker and Stephen Gill (2004) have re-conceptualized materialist notions of labor and social reproduction to include queer experiences of life-making. Social reproduction, in materialist terms, frames human survival as depending "on social relations that span political economy and juridical and cultural forms" (Hennessy 2006, 387). Moreover, "[s]ocial reproduction under capitalism takes place through the making, exchange, and consumption of commodities" (ibid. 389). The concept of queer social reproduction not only highlights the reproductive aspects of non-normative sexual and non-sexual relations but also makes it possible to recognize the revolutionary potential of queer social relations to change society (Griffiths 2016).
By drawing on the concept of queer social relations, we can understand queer solidarity as shared reproductive labor that includes actions and emotions that satisfy what Hennessy calls "outlawed affective needs" (Hennessy 2006, 389). Hennessy points to the fact that many human needs remain unmet by capitalism, because capitalism depends on exploitative social relations and the disregard of some people's needs in favor of others. The sphere of these unmet or "outlawed need[s]" (ibid.), however, has the potential to constantly threaten capitalist interests. "It is the monstrous outside to capitalism that haunts it. Affective needs that are organized into… 'sexuality' are only one aspect of much broader affective and sensate relations that feature in everyday life" (ibid.). They are essential to social reproduction and to the formation of resistance to capitalist relations and their violence. The labor of queer solidarity can accordingly be understood as care work, the redistribution of resources, sex, and the sharing involved in queer social reproduction. Moreover, they need to include affective and emotional work, empathy, love, and desire, but also, as already mentioned, the working through and dealing with feelings of disappointment and frustration.
Applying materialist concepts of labor and work to a queer feminist solidarity context necessarily includes a reconceptualization of labor power and labor value. Disability studies scholars have shown that the Soviet ideological apparatus historically applied the materialist concept of labor in a way that reduced the value of a person to their economic productivity. This application stigmatized and socially excluded people with disabilities as unproductive and as burdens to society (Phillips 2009, 10; Hartblay 2006, 52). Queer solidarity as "working together" needs to consider the violent history of Soviet and capitalist ableism as well as its neoliberal mutations. Moreover, queer feminist solidarity efforts often perpetuate compulsory able-bodiedness by making evaluations of an individual's productivity. A queer feminist anti-racist "working together" needs to emphasize accessibility and participation rather than efficiency. Playfully referring to Marx's labor theory of value, which "centers on the category of abstract labor" (Bellofiore 1989, 5), could help to rethink labor value not in terms of outcomes but in terms of difference. Marx conceptualizes "[l]abor as a measure of the difficulties that must be overcome, as real social cost, … whatever the historical mode of production" (ibid.). Accordingly, the value of queer solidarity would not be measured by its outcomes, but on the difficulties, it dealt with and by its failures.
Yet another aspect of queer solidarity, one that is indeed very much connected to "fucking" in the most literal sense, is sexual desire and (physical) love. We need to accept and theorize sexual attraction and romantic feelings as legitimate reasons for solidarity just as much as we have empathy for the suffering or support for the political cause. However, doing so implies that specific hierarchies and power structures need to be worked through. Queer feminist political contexts rarely consider sexual attraction, desire, friendship, and romantic love as categories or reasons for solidarity efforts, despite the fact that such efforts more often than not facilitate or result in cross-cultural sex, sexual affairs, (a)sexual kinships, and relationships. This seems paradoxical, given that political queer communities focus on sexuality and the free articulation and enjoyment of sexuality and love as part of their politics. We must remember that as sets of relationships, sexuality is always intersectional: it is created by and itself creates class, race, gender, and other formations (see Ferguson 2004). Inquiring into solidarity and sexuality thus always means inquiring into other social formations and modes of existence. Without attempting to simplify the complexity of sexual attraction, desire, and love or suggesting that all three are the same, we want to suggest that sexual encounters and relationships are already an important part of queer solidarity efforts. Queer solidarity that acknowledges the sexual or intimate components of queer communities could be a (form of) "working together" in the sense of a working with and working through desires and relations. This kind of queer solidarity could be conceptualized, like Susanne Scholz does it, as "a thick relation with substantial bonds" (Scholz 2014, 207), which requires "diligence" and "sustained commitment" (ibid., 125).
2.2. "Working together" through privileges
The last aspect that we feel needs thorough consideration within queer solidarity work is the aspect of privileges. A working through privileges needs to take knowledge and psychological aspects into account. However, it also needs to take material inequalities seriously and result in a redistribution of economic and symbolic capital. When asked why she turned to feminist materialism in her queer work, Heather Love quotes Cherríe Moraga: "If you have enough money and privilege, you can separate yourself from heterosexist oppression. You can be sapphic or something, but you don't have to be queer" (Moraga qtd. in Crosby et al. 2012, 130). Without suggesting that money and privilege completely free individuals from homophobic violence, the connection between material stability and the ability to live freely and happily needs to be acknowledged, especially in the context of international collaborations. Moreover, Moraga's quote additionally suggests an understanding of queerness as non-normativity and outside of social acceptance that is not easily incorporated into neoliberal discourses of individuality.
Living in the North and West can be a privilege. Other forms of privilege can be to live in a major capital, such as St Petersburg, Moscow, or Kyiv. Being white and a cis-gendered male is a privilege. Queer feminist solidarity efforts need to consider racialized power relations not just between the East and the West but also throughout post-Soviet spaces. Here we can draw, for example, on the work of the post-Soviet feminist theorist Madina Tlostanova, who analyzes the persistence of hegemonic thinking within post-Soviet Central Asia and the Caucasus, which assigns meanings through the "difference between the Second World and the Third World" (Tlostanova 2018, 34). Moreover, Tlostanova argues that today's Russia is pursuing a "neoimperial" brand of cultural politics that "is an imperial Soviet self-affirmation at the expense of blackening the stronger imperial rivals and racially stigmatizing the entire former colonial others – its own and someone else's" (ibid.). This kind of politics places "an ethnic Russian who practices white supremacy [above] any non-Europeans, and [he is someone who] resents being rejected by the Western society, which does not see him as part of its racial sameness" (ibid.). It promotes discourse about the "civilized white Christian" post-Soviet people and the "Muslim savage …" (ibid.) outsider Others, and frequently "interlocks with National Bolshevism and its aftermath or balances on the verge of openly fascist, ultra-right ideology" (Tlostanova 2018, 34).
Approaches that call for the decolonization of thought, knowledge, and practices are aimed at recognizing and undoing the hierarchies and privileges that are present in contemporary societies. However, it is important to remember that "decolonization," just like "queer," can also risk becoming just another depoliticized concept employed by academics. In this regard, it is also important to mention the privilege of working within (Western) academia and theorizing or researching marginalized communities. The Queering Yerevan Collective and Nelli Sargsyan (2017) in this regard critique Madina Tlostanova's research methods and conceptualizations. They instead emphasize the importance of inventing different forms of collaborative praxis and communication, of "flying and trusting together, and trusting each other in flight" (Queering Yerevan Collective and Sargsyan 2017),  which could form the basis of international and decolonial solidarity.
Although to elaborate further on this would be beyond the scope of this short introduction, we want to emphasize that queer solidarity projects that want to challenge the East–West divide need to engage with the racialized hegemonies that structure the post-Soviet space, since they are a continuation of historic Western hegemony (for example, with regards to the Second and Third World divide) as well as a counter-reaction to them. Moreover, we have to address the fact that pro-gay political discourses that look to Western Europe as a model more often than not align gay rights activists with anti-migrant politics, especially through anti-Muslim sentiment (Haritaworn 2012; Huber 2013). As regards the current solidarity movements supporting LGBTIQ+ people in the post-Soviet regions of Chechnya, the Donbass (Ukraine), or Azerbaijan, we need to reflect on this intersection. There is a real danger, for example, of affirming Western and white post-Soviet sentiments against Muslims in general, by identifying Islam as the source for the horrible crimes committed against LGBTIQ+ individuals in Chechnya. Equally problematic is the negative focus on tradition and history as being necessarily homo-, trans-, or queerphobic, resulting in their dismissal. The perpetual re-narration of Chechen (as well as Russian) tradition and history as anti-LGBTIQ+ by various solidarity groups and individuals reveals only the pejorative view, while at the same time confirming and reinforcing the state-sanctioned erasure of queer histories and lives from these cultures and traditions altogether, focusing exclusively on damage and pain rather than on resistance and resilience. It therefore also reinforces the position of LGBTIQ+ movements as lynchpins for the negotiation of Western (pro-LGBTIQ+) versus traditional values (Neufeld and Wiedlack 2016). Moreover, it reaffirms the idea that anti-LGBTIQ+ sentiments are a necessary part of a tradition-conscious and/or religious stance.
3. A Short overview of the individual contributions
How does solidarity reveal itself in this volume? Our point of departure was the belief that every being has not just a "single" identity but is rather a "coalition of one" (Crenshaw 1991; see also Carastathis 2016). Similarly, the oppressions we face are always "intermeshed" (Lugones 2003; 2007; 2010) and cannot be easily separated into boxes and categories. This knowledge does not just exist in the academic works cited above, as for a long time it has manifested itself in social movement struggles in many countries, as well as in creative visions. In line with these visions, we can think of the solidarities (un)spoken of in this issue as a multi-faceted mesh that makes palpable the multiplicity and heterogeneity of both oppressions and resistances in each separate "fragment." Each of the articles in/contributions to this issue thus presents its own way of theorizing such resistances, adopting a specific angle, context, theme – or even a different medium. We recognize artmaking and creative practices as a form of knowledge production and theorizing; hence the issue contains visual, literary, performative and textual contributions.
The issue opens with the article "'We cannot be included on your terms': a queer critic of the imperialist view in 'Gaycation: Ukraine'" by nadiya chushak, Yulia Serdyukova, and Irina Tantsiura,  explores the present moment and the ways in which solidarities can be created or ruined. chushak, Serdyukova, and Tantsiura open up a discussion on the representation of "non-Western" LGBT+ in the "West" and show how a "claim to solidarity with Ukrainian LGBT+ population" by "Western" actors can serve as a "manifestation of the neoliberal 'queer' imperial gaze."
Lesya Pagulich and Tatsiana Shchurko contribute a Russian translation of the "Black Feminist Statement" by the Combahee River Collective (1977) to our thinking about queer and feminist transnational solidarities. The Black Feminist Manifesto questions "global sisterhood" and forms of solidarity that are one-dimensional or exploitative. It envisions new forms of radical transnational solidarity that are necessarily always intersectional. The translation of the Manifesto into Russian adds new meanings to it in the political and historical context of the 21st century. It is an act of transnational solidarity in itself: solidarity across time with the Combahee River Collective, as it connects past and present; and solidarity across space, as it opens up local discussions on racism, ethno-centrism, coloniality, imperialism, and feminist solidarity.
The documentary essay by Elena Smirnova entitled "The Unwomanly Face of Chechnya" conveys the author's thoughts and feelings about the homophobic campaign that has developed in Chechnya since the beginning of 2017. Based on the author's personal experience as a volunteer for an association in France that supports LGBT+ refugees from the North Caucasus, the text talks about "the pain that cannot fit into one's heart." Asking whether a text can actually change anything, Elena raises important issues of (in)visibility, survival, and international solidarity.
Aleksandra Yaseneva and Ekaterina Davydova in their piece "Boston Marriages in Contemporary Russia and Beyond" explore the promotion and revitalization of the "Boston marriage" practice in the contemporary online project "Zhivi s podrugoi." The article shows how feminist solidarity can be built by the "invention" or "rediscovery" of traditions and practices.
"'Muzhelozhstvo/Man-lying' and Modern Concepts of the Supposed Russian Tradition of Homophobia" by Nick Mayhew is a study of early modern "anti-sodomy" laws imported into Russia from Northern Europe. The author argues that the meaning of "sodomy" (muzhelozhstvo) was ambiguous in early modern times, and that the "traditional values" rhetoric that appeals to these laws in order to gain legitimacy is a contemporary invention.
A curatorial text "In the Wake of the 'Artistic Gender and Sexual Dissent and Constructing Communities' Exhibition" by Saltanat Shoshanova serves as a virtual tour, an ephemeral archive, and a personal reflection on an exhibition that took place several years ago during the "Fucking Solidarities" conference. The exhibition gathered creative people from different countries and backgrounds interested in exploring the themes of queer solidarity. Saltanat remembers the experience of organizing the exhibition, notes the particular highlights of the projects presented, and introduces some of the artistic works that follow.
One of the works presented at the exhibition was "Otilia's Enigma." The artist and researcher Alexandra Tatar shared notes on the performance, which we present, together with visual documentation of the project. Alexandra's performance explores concepts of beauty and how they operate in Romanian society, and feminine beauty as the "embodiment" of the "West". Alexandra merges the human body with the objects in an attempt to reveal the capitalist idea of freedom as normative and consumerist. Following Paul Preciado, the text, together with the performance, asks the question of what the role of a "good body" is in the age of pharmacopornocapitalism.
Another interesting artwork that is featured in this issue is "Instructions on the Communication of Allies" by Hagra, who documents and reflects on "fucking solidarity" – experiences of exclusion and oppression in "spaces of solidarity." This interactive work uncovers issues concealed within activist and (queer)feminist spaces and points to the importance of the invention and re-discovery of intersectional struggle methods.
In dialogue with Hagra's work here is a selection of images by Ukrainian grassroots initiatives and activists, which were not a part of the exhibition but resonate nevertheless with the texts and themes of this issue. Presented are a graphic work by Yan Gubs'ky on transphobia and images by anonymous artists made during the "Feminism, Zines, Solidarity: Resisting Discrimination on Paper and in Real Life" project. The images speak about the different forces that "fuck up solidarity" – from intersecting oppressions to emotional and physical burnout.
Finally, "Queer Kinship or Queering Kinship: Starting Points, Methodological Speculations, Overcoming, Searching for Art Practices and Language" is an experimental work by the KFAAG "Unwanted Organization" (Masha Godovannaya, Dasha Vorujubivaeva, Kostya Shavlovsky, Polina Zaslavskaya) that looks at the exploration of the "queer" and "solidarity" and breaks with the binary of the "human" and "non-human." Presented as a lecture-performance during the conference, it appears in this issue in the form of a text (the text is published in the *pdf of the special issue only).
Аладьева Л. 2016. «Этика квир-сообщества». Человек, культура, общество: тез. докл. XIII науч. конф. студентов, магистрантов и аспирантов фак. филос. и соц. наук БГУ. Минск, 28 апреля 2016 г., редкол. А. Легчилин (отв. ред.), В. Сайганова, 5–6. Минск: БГУ.
Гарстенауэр Терезе. 2018. «Гендерные и квир-исследования в России», пер. с нем. Д. Рыбакова. Социология власти 30 (1): 160–174.
Квир как современный антоним… 2008. «Квир как современный антоним гетеронормативности», Свободна! 28 серпня. https://web.archive.org/web/20080916222314/http://svobodna.org.ua/txt/theory/kvir-kak-sovremennyj-antonim-geteronormativnosti.html
Митрофанова Алла. 2014. «Квир-феминизм как конструирование медиальных миров». На перепутье: методология, теория и практика ЛГБТ и квир-исследований, ред. А. Кондаков, 335–351. Санкт-Петербург: Центр независимых социальных исследований.
Номеровская Анна. 2014. «Проблема нормативности в дискурсе квир-теории». Исторические, философские, политические и юридические науки, культурология и искусствоведение. Вопросы теории и практики 11, ч. 2 (49): 125–128.
Плахотник Ольга. 2013. Я экпериментирую с квир-педагогикой на своих занятиях // Новая Европа. URL: http://n-europe.eu/article/2013/10/31/olga_plakhotnik_ya_eksperimentiruyu_s_kvir_pedagogikoi_na_svoikh_zanyatiyakh
Плахотник Ольга. 2014. «Квир-педагогика и постсоветское образование: где выход из эпистемологического и политического тупика?». На перепутье: методология, теория и практика ЛГБТ и квир-исследований, ред. А. Кондаков, 359–379. Санкт-Петербург: Центр независимых социальных исследований.
Трафареты к 14 февраля… 2008. «Трафареты к 14 февраля в Киеве», Свободна!, 14 лютого. https://web.archive.org/web/20080820004631/http://svobodna.org.ua/news/96.html
Abu-Lughod, Lila. 2013. Do Muslim Women Need Saving? Boston: Harvard University Press.
Amin, Kadji 2020. "Genealogies of Queer Theory." The Cambridge Companion to Queer Studies, ed. Siobhan Somerville, 17–29. Cambridge/New York: Cambridge University Press.
Anzaldúa, Gloria. 1983. "La Prieta." This Bridge Called My Back: Writings by Radical Women of Color, 2nd ed., ed. Cherríe Moraga and Gloria Anzaldúa, 198–210. New York: Kitchen Table/Women of Color Press.
Bakker, Isabella and Stephen Gill, eds. 2004. Power, Production and Social Reproduction: Human In/security in the Global Political Economy. London: Palgrave.
Bellofiore, Riccardo. 1989. "The Concept of Labor in Marx." Journal of Political Economy 28 (3): 4–34.
Binnie, Jon, and Christian Klesse. 2012. "Solidarities and Tensions: Feminism and Transnational LGBTQ Politics in Poland." European Journal of Women's Studies 19 (4): 444–59.
Bouteldja, Houria. 2010. "White Women and the Privilege of Solidarity," October 22, http://www.decolonialtranslation.com/english/white-women-and-the-priviledge-of-solidarity.html
Brontsema, Robin. 2004. "A Queer Revolution: Reconceptualizing the Debate over Linguistic Reclamation." Colorado Research in Linguistics 17: 1–17.
Caple James, Erica. 2010. Democratic Insecurities: Violence, Trauma and Intervention in Haiti. Berkeley: University of California Press.
Carastathis, Anna. 2016. "Interlocking Systems of Oppression." Critical Concepts in Queer Studies and Education, eds. Nelson M. Rodriguez, Wayne J. Martino, Jennifer C. Ingrey, and Edward Brockenbrough, 161–172. New York: Palgrave Macmillan.
Crenshaw, Kimberlé. 1991. "Mapping the Margins: Intersectionality, Identity Politics, and Violence Against Women of Color." Stanford Law Review 43 (6): 1241–1299.
Crosby, Christina, Lisa Duggan, Roderick Ferguson, Kevin Floyd, Miranda Joseph, Heather Love, Robert McRuer, Fred Moten, Tavia Nyong'o, Lisa Rofel, Jordana Rosenberg, Gayle Salamon, Dean Spade, and Amy Villarejo. 2012. "Queer Studies, Materialism, and Crisis: A Roundtable Discussion." GLQ 18 (1): 127–147.
Eng, David L., Judith Halberstam, and José Esteban Muñoz. 2005. "What's Queer about Queer Studies Now?" Social Text 23 (3–4): 1–17.
Griffiths, Kate Doyle. 2016. "The Only Way Out is Through: A Reply to Melinda Cooper." March 26. https://www.versobooks.com/blogs/3709-the-only-way-out-is-through-a-reply-to-melinda-cooper
Ferguson, Roderick. 2004. Aberrations in Black: Toward a Queer of Color Critique. Minneapolis/London: University of Minnesota Press.
Halperin, David M. 2003. "The Normalization of Queer Theory." Journal of Homosexuality 45 (2-4): 339–43.
Haritaworn, Jin. 2012. "Women's Rights, Gay Rights and Anti-Muslim Racism in Europe: Introduction." European Journal of Women's Studies 19 (1): 73–78.
Hartblay, Cassandra. 2006. "An Absolutely Different Life: Locating Disability, Motherhood, and Local Power in Rural Siberia. Honors Projects. Paper 1." http://digitalcommons.macalester.edu/anth_honors/1 (accessed 15 May 2019).
Hennessy, Rosemary. 2006. "Returning to Reproduction Queerly: Sex, Labor, Need." Rethinking Marxism 18 (3): 387–395.
hooks, bell. 1986. "Sisterhood: Political Solidarity between Women." Feminist Review 23: 125–38.
Huber, Marty. 2013. Queering Gay Pride: Zwischen Assimilation und Widerstand. Vienna: Zaglossus.
Keating, AnaLouise, ed. 2009. The Gloria Anzaldúa Reader. Durham and London: Duke University Press.
Kulpa, Robert. 2014. "Western Leveraged Pedagogy of Central and Eastern Europe: Discourses of Homophobia, Tolerance, and Nationhood." Gender, Place & Culture 21 (4): 431–448.
Kulpa, Robert and Joanna Mizielińska. 2012. "Guest Editors' Introduction: Central and Eastern European Sexualities 'In Transition'." Lambda Nordica: Journal of LGBTQ Studies 4: 19–29.
Lugones, María. 2003. Pilgrimages/peregrinajes: Theorizing Coalitions Against Multiple Oppressions. Lanham: Rowman & Littlefield.
Lugones, María. 2007. "Heterosexualism and the Colonial/Modern Gender System." Hypatia 22 (1): 186–219.
Lugones, María. 2010. "Toward a Decolonial Feminism." Hypatia 25 (4): 742–759.
Majewska, Ewa. 2015. "Between Invisible Labor and Political Participation: Women in the Solidarity movement." Baltic Worlds 8 (1–2): 94–98.
Mayerchyk, Maria and Olga Plakhotnik. 2019. "Between Time of Nation and Feminist Time: Genealogies of Feminist Protest in Ukraine." Feminist Circulations between East and West / Feministische Zirkulationen zwischen Ost und West, ed. A. Bühler-Dietrich, 47–70. Berlin: Frank & Timme.
Mishchenko, Kateryna. 2015. "Sacrifice is Just Another Word for Solidarity in Ukraine Today." Baltic Worlds 8 (1–2): 103.
Mohanty, Chandra Talpade. 2003. "'Under Western Eyes' Revisited: Feminist Solidarity through Anticapitalist Struggles." Signs: Journal of Women in Culture and Society 28 (2): 499–535.
Neufeld, Maria, and Katharina Wiedlack. 2016. "Lynchpin for Value Negotiation: Lesbians, Gays and Transgender between Russia and 'the West.'" Queering Paradigms VI: Interventions, Ethics and Glocalities, ed. Bee Scherer, 173–194. Oxford: Peter Lang.
Pedwell, Carolin. 2012. "Affective (Self-)transformations: Empathy, Neoliberalism and International Development." Feminist Theory, 13 (2): 163–179.
Phillips, Sarah D. 2009. "There Are No Invalids in the USSR. A Missing Soviet Chapter in the New Disability History." Disability Studies Quality 29 (3): 1–33.
Plakhotnik, Olga. 2019. Imaginaries of Sexual Citizenship in Post-Maidan Ukraine: A Queer Feminist Discourse Analysis. PhD thesis in Sociology, the Open University. https://doi.org/10.21954/ou.ro.0000f515
Queering Yerevan Collective and Nelli Sargsyan 2017. "In Flight: Singing Tricksters, Imposters, Masqueraders." February 11. https://artmargins.com/in-flight-singing-tricksters/
Scholz, Sally J. 2014. "Transnational Feminist Solidarity and Lessons from the 2011 Protests in Tahrir Square." Global Discourse 4 (2–3): 205–219.
Sharoni, Simona, Rabab Abdulhadi, Nadje Al-Ali, Felicia Eaves, Ronit Lentin, and Dina Siddiqi. 2015. "Transnational Feminist Solidarity in Times of Crisis." International Feminist Journal of Politics 17 (4): 654–70.
Solovey, Vanya 2019. "Feminism in a Subaltern Empire: Russian Colonialism and Universal Sisterhood." Feminist Circulations between East and West / Feministische Zirkulationen zwischen Ost und West, ed. A. Bühler-Dietrich, 71–90. Berlin: Frank & Timme.
Spade, Dean. 2010. "It's So Queer to Give Away Money." Tikkun 25 (4): 63–74.
Stella, Francesca. 2013. "Queer Space, Pride, and Shame in Moscow." Slavic Review, 72 (3): 458–480.
Stella, Francesca. 2015. Lesbian Lives in Soviet and Post-Soviet Russia: Post/socialism and Gendered Sexualities. London: Palgrave Macmillan.
Tlostanova, Madina. 2018. What Does It Mean to Be Post-Soviet? Decolonial Art from the Ruins of the Soviet Empire. Durham and London: Duke University Press.
1.

This chapter includes a revised version of parts of Katharina Wiedlack's book chapter: "Fucking Solidarity: 'Working Together' through (Un)pleasant Feelings." Queer-Feminist Solidarity and the East/West Divide, ed. Katharina Wiedlack, Saltanat Shoshanova, Masha Godovannaya, 21–50. Berlin, Oxford, Vienna: Peter Lang, 2019. Especially the subchapter "What Does Solidarity 'Mean'" contains passages from the mentioned book chapter and expands them for the purposes of this special issue.

2.

"Квир или не квир?", Прастора КХ, June 20, 2020. https://youtu.be/mXl_P7FRM_Q
1.

This chapter includes a revised version of parts of Katharina Wiedlack's book chapter: "Fucking Solidarity: 'Working Together' through (Un)pleasant Feelings." Queer-Feminist Solidarity and the East/West Divide, ed. Katharina Wiedlack, Saltanat Shoshanova, Masha Godovannaya, 21–50. Berlin, Oxford, Vienna: Peter Lang, 2019. Especially the subchapter "What Does Solidarity 'Mean'" contains passages from the mentioned book chapter and expands them for the purposes of this special issue.

2.

"Квир или не квир?", Прастора КХ, June 20, 2020. https://youtu.be/mXl_P7FRM_Q